SJU Prospect Camp 2

October 13, 2018
Saint Joseph's Baseball and Fritz Hamburg Baseball Camps announce the 2018 SJU Fall Prospect Camp to be held on Saturday, October 13th. Open to players in grades 9-12, Fritz Hamburg Baseball Prospect Camps are designed to help high school-aged prospects showcase their skills in front of college coaches while also learning how to take those skills to the next level. The prospects will get to work with current SJU players, as well as be coached and evaluated by the SJU Baseball coaching staff.
CAMP DETAILS:
Check-in will take place starting at 8:15am. The camp will begin promptly at 9am with opening remarks. Players will receive instruction and be evaluated. After a light lunch/snack, players will then participate in live games. Players are reminded to bring their own food for snacking and lunch. Position players will get multiple at-bats along with several innings in the field, and pitchers will throw 1-2 innings on the mound. Primary Pitchers will throw 2 innings. Two-way players will get to hit, field, and pitch. The camp is scheduled to finish around 5:00 pm.
The Rain Date for camp will be Sunday, October 14th.
REFUND POLICY:
No refunds will be given. However, any cancellation made prior to 48 hours before the start time of the camper's session will be issued in the form of a credit that can be used toward any future camp, mini-camp, or lesson. No camp credit request will be accepted within 48 hours of the start time of the camper's session.
Note: Please park in the Dupperault Hall Parking Lot behind the Right Field Entrance. Please do not drop campers off by the Gabriel Lot Annex (N.Latches Lane by Left Field Entrance)
PAYMENT BY CASH OR CHECK:
For those who would like to pay by cash or check, please contact Pete O'Hara at (267) 987-9386 or e-mail him at pohara@sju.edu.
DISCLAIMER:
In accordance with NCAA guidelines, all Fritz Hamburg Baseball Camps are open to any and all entrants, limited only by specified number, age, grade level, and/or gender of its participants.
For all camps, we do not provide health and accident insurance. Campers must rely on their guardian's medical services. Insurance information must be included on the application. Minor sports injuries are treated by staff members. Saint Joseph's University and Fritz Hamburg Baseball Camps waives all responsibilities for treatment of camp-related injuries.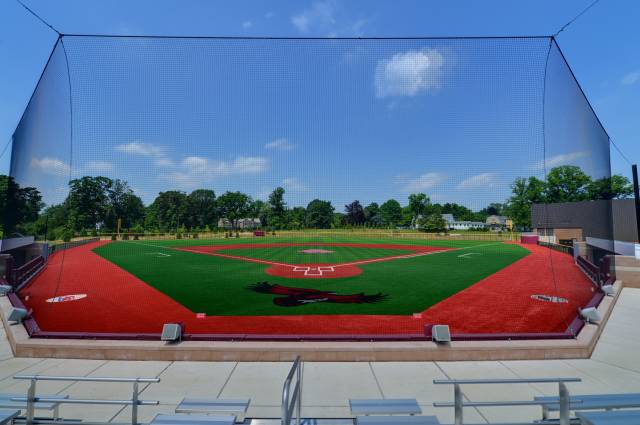 Smithson Field 
Ages: 14 - 18
October 13, 2018 | Merion Station, Pennsylvania
431N.Latches Lane
Merion Station
,
Pennsylvania
19066