SJU Winter Instructional Prospect Camp

December 08, 2018
Saint Joseph's Baseball is pleased to announce its 2018 Winter Instructional Prospect Camp. Open to all players in grades 9-12, this camp is designed to offer players an opportunity to work with our entire SJU coaching staff and some current players to both showcase their skills and learn new techniques to enhance their game. Instruction will be broken up into three different skill sets: infield defense, hitting, and pitching/catching.
Players may choose to register for one or more sessions throughout the day. Sessions will begin at 10:00am, 12:30pm, and 3:00pm. Each session will run for two hours.
Session I: Infield Play: 10:00am-12:00pm
Session II: Hitting: 12:30pm-2:30pm
Session III: Pitching/Catching: 3:00pm-5:00pm
The camp will be held on Saturday, December 8th, at Saint Joseph's indoor facility adjacent to Hagan Arena. 
Players should wear sneakers (no spikes)
Players attending multiple sessions should bring a snack
Due to limited capacity, walk-up registrations will NOT be accepted
Infield and Hitting session will be capped at 30 players
Pitchers and Catchers will be capped at 20 players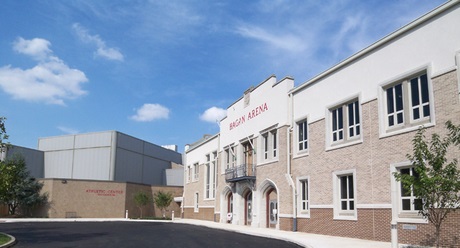 Hagan Arena
SJU Winter Instructional Prospect Camp
Gender: Male |
December 08, 2018 | Philadelphia, Pennsylvania
2450 N. 54th St.
Philadelphia
,
Pennsylvania
19131